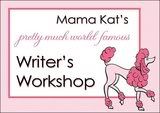 Over at Mama Kats, Mama host a writer's workshop on Thursdays to get the creative juices flowing...I picked Prompt #1) Write about your wedding song. What was it and why did you choose it?
When Madley and I met way back in the early 80's, music was...well...80's music. The very beginning of some good and some bad music for a decade...all of which makes some of us sigh and wish we could still wear our ripped sweatshirts, leg warmers and satellite dish bangs.
Music was everything to me back then...if iPods were around, I would have had my ear buds stuck in my ears 24/7/365.
I was playing my guitar regularly then and learning new songs every week and I had passion. Little Indy remembers with fondness, me playing and singing her to sleep...in fact, just a few years ago Country Roads came on the radio and she said "I remember this song! You used to play it for me!"
One of the songs I love from the 80's is Stevie Nicks' Landslide. The haunting ballad feel it had drew me in and I just had to learn it.
I would sit on my couch with my 12 string guitar and listen to the song over and over until I'd figured out the key and chords and could play it and then I learned the words. I learned it for no one else but Little Indy and me...and eventually, Madley. I don't play in front of many other people...I'm too stinkin' shy!
No...I won't play at your Aunt Sally's cousin's girlfriend's mother's bunion removal party. I just can't play those gigs anymore.
Madley and I share a love of music. Some music that he likes, I don't and visa-versa...but we do share a love of Fleetwood Mac. We share a lot of likes, but I am not into the heavy jazz or old time blues like he is, and he isn't as into Michael Jackson or the Beatles as I am. He has grown to like classical music of which I have a passion for. I have grown to love Diana Krall and Michael Buble. He's still not into Johnny Cash or Lady Gaga with me.
Learning Landslide was during the time that Madley and I were
becoming friends...and then more than friends.
I had been married before and I was unsure of letting myself fall in love, especially because he is 4 years younger than me. I was getting older (27)...I had a child...we were best friends. So the song became relevant for us. Every time I heard or played it, I thought of him. I still do.
When we were making our wedding plans, we knew what song we wanted performed. I called my good friend who I used to play guitars with and asked her if she would grace us with her beautiful voice and could she please bring my guitar back...I had loaned it to her and she kept forgetting to give it back. She learned Landslide and played my 12 string and sang it with a friend of hers at our wedding. Perfection!
(I had my new father-in-law make sure he confiscated my 12 string before she sneaked it back out of the building).
I could kiss Stevie for that song...but she might call the police and then I would be sitting in my jail cell wishing I had my guitar so I could sing Landslide to my fellow inmates.
So I'll just say thank you Stevie. You may have written the song for Lindsey Buckingham, but it was written for Madly and me, too.
On a bit of a sad note (for me), since I have Rheumatoid Arthritis and my hands and fingers are severely affected, I am struggling with playing my guitar. Madley bought me a small parlor guitar a few years ago so it's smaller for my tiny hands, but my fingers aren't cooperating. I keep trying, though!
Soo...
Landslide
1975 by Stevie Nicks
I took my love and I took it down
Climbed a mountain and I turned around
And I saw my reflection in the snow-covered hills
And the landslide brought me down

Oh, mirror in the sky--what is love?
Can the child in my heart rise above?
Can I sail through the changin'...ocean tides?
Can I handle the seasons of my life?
I don't know.....I don't know...

Well I've been afraid of changin'
Because I've built my life around you
But time makes is bolder; children get older
I'm getting older too....

So, take this love...take it down.
Oh, if you climb a mountain and you turn around
and you see my reflection in the snow-covered hills...
well, the landslide will bring you down;
The landslide will bring you down...